_Latest news & events
Highlights from Barrier Breakers: Talent Scout
Published in Knowledge Exchange on Mon 28 Jun 2021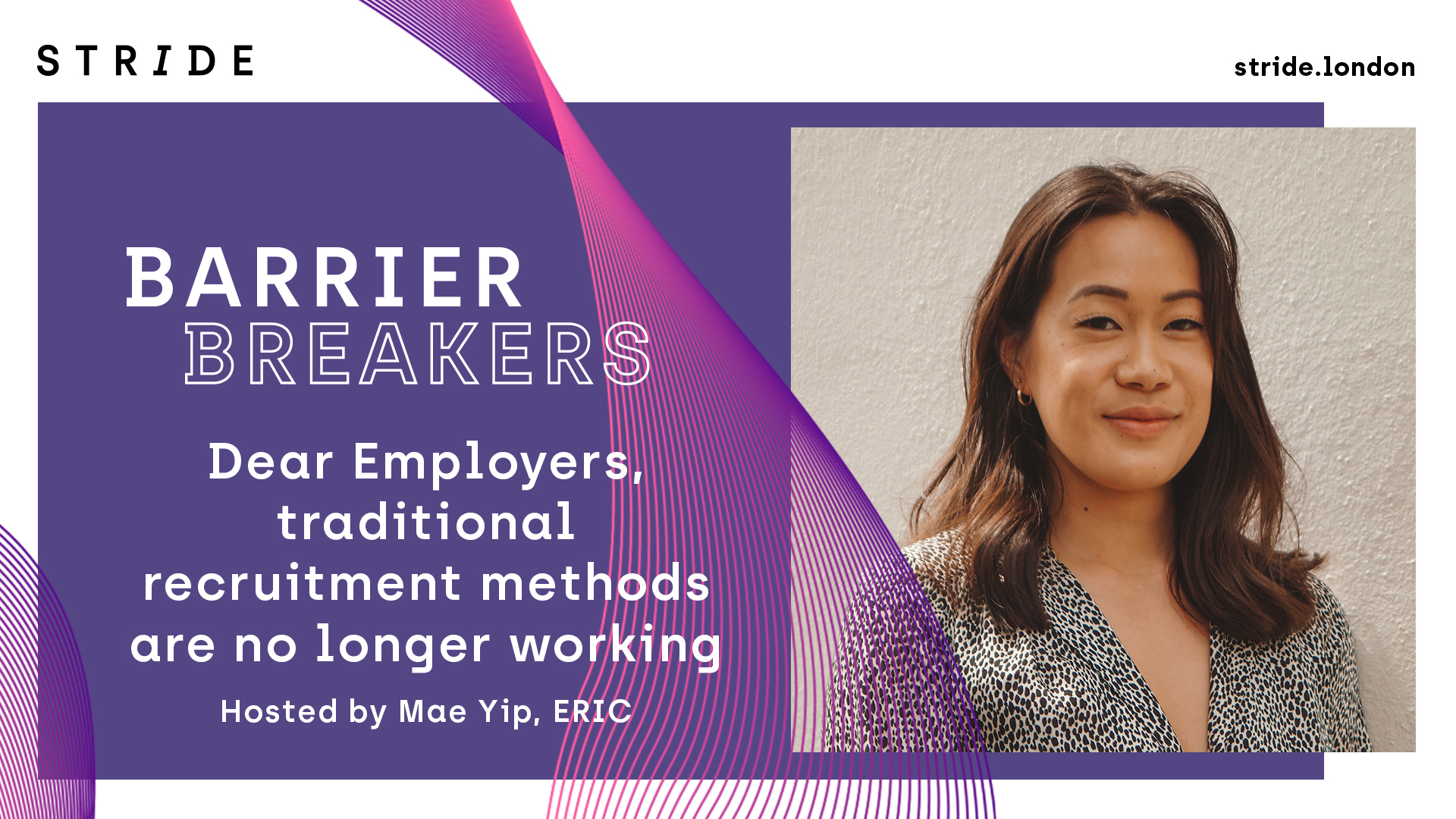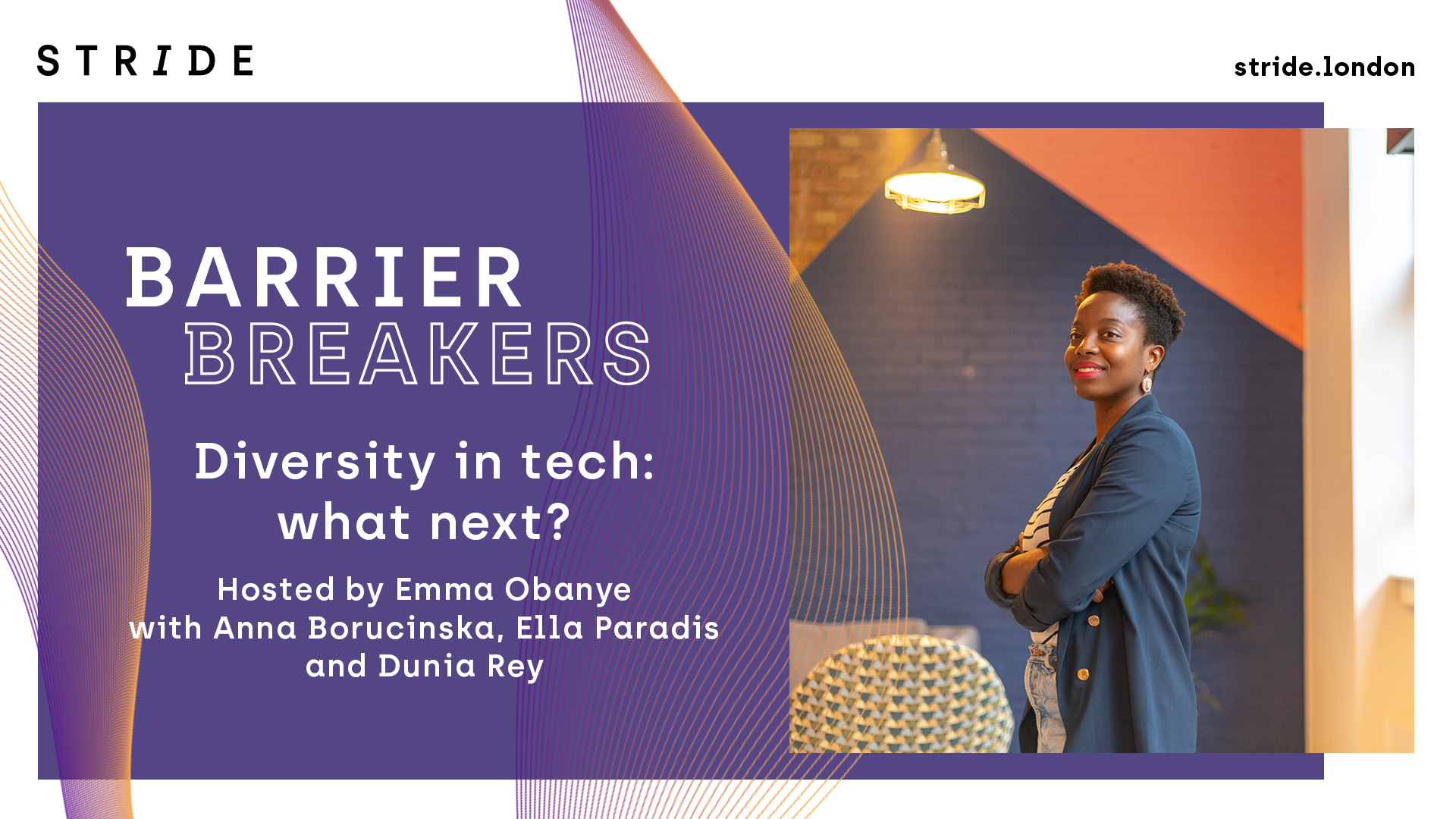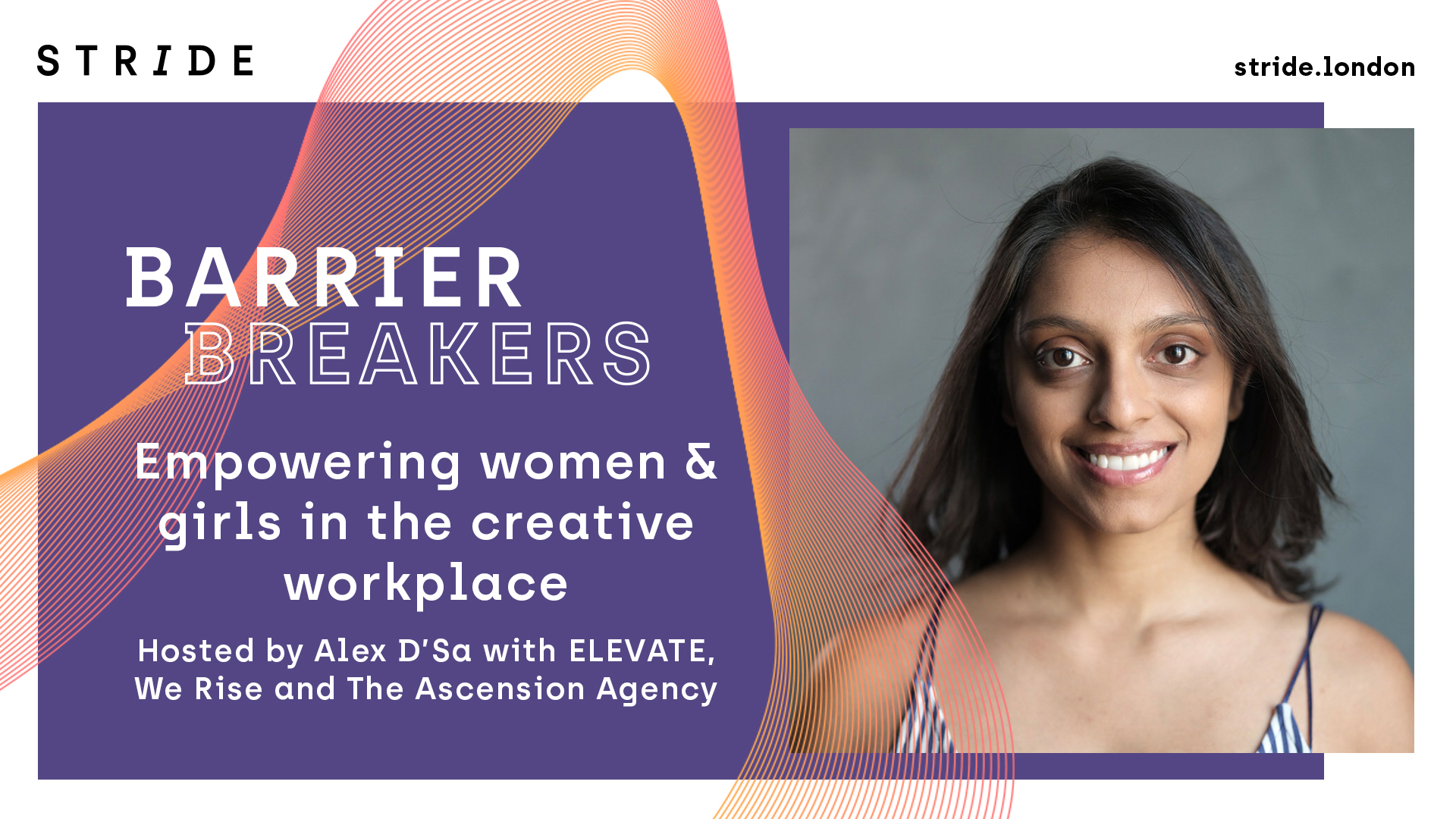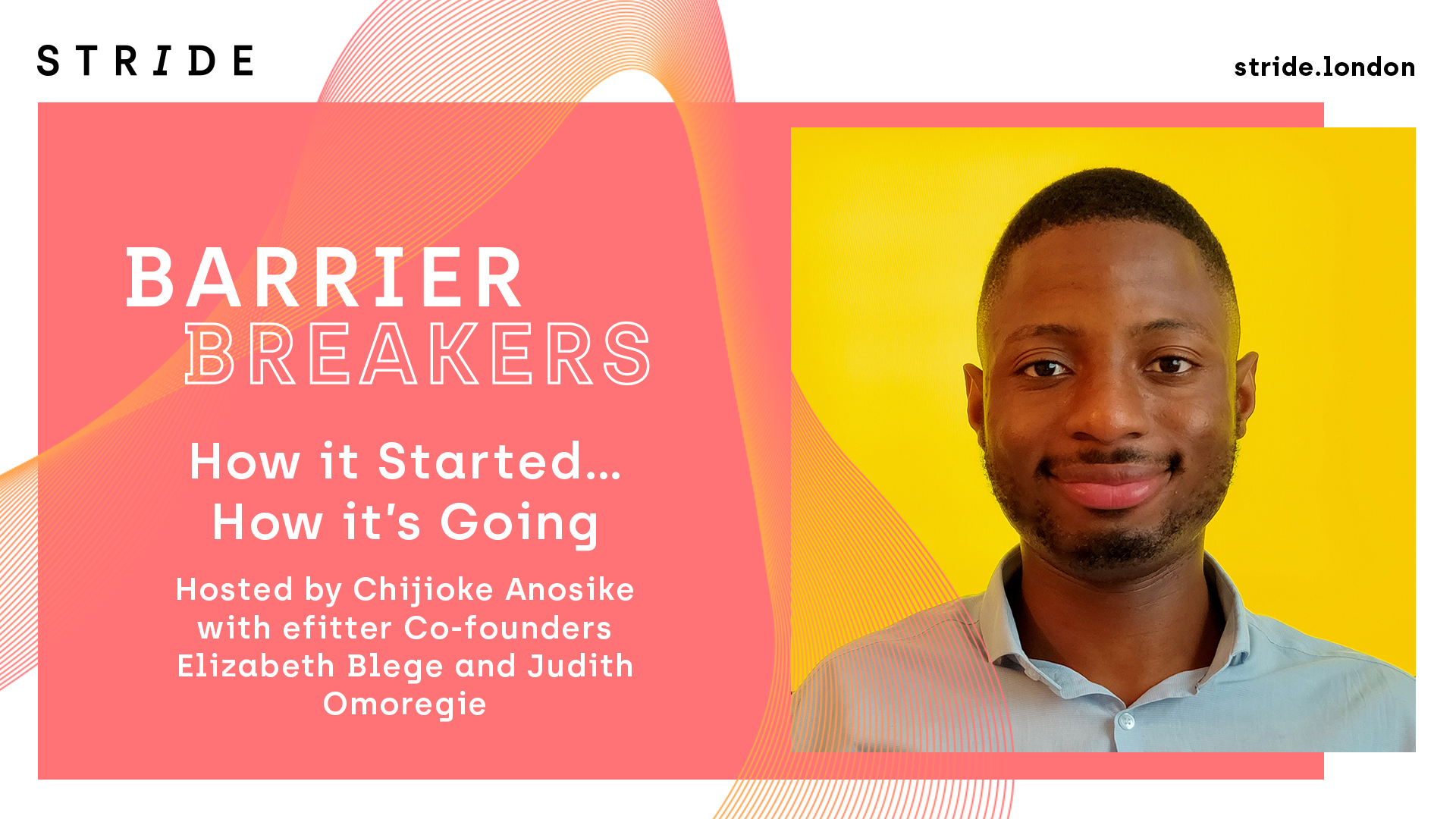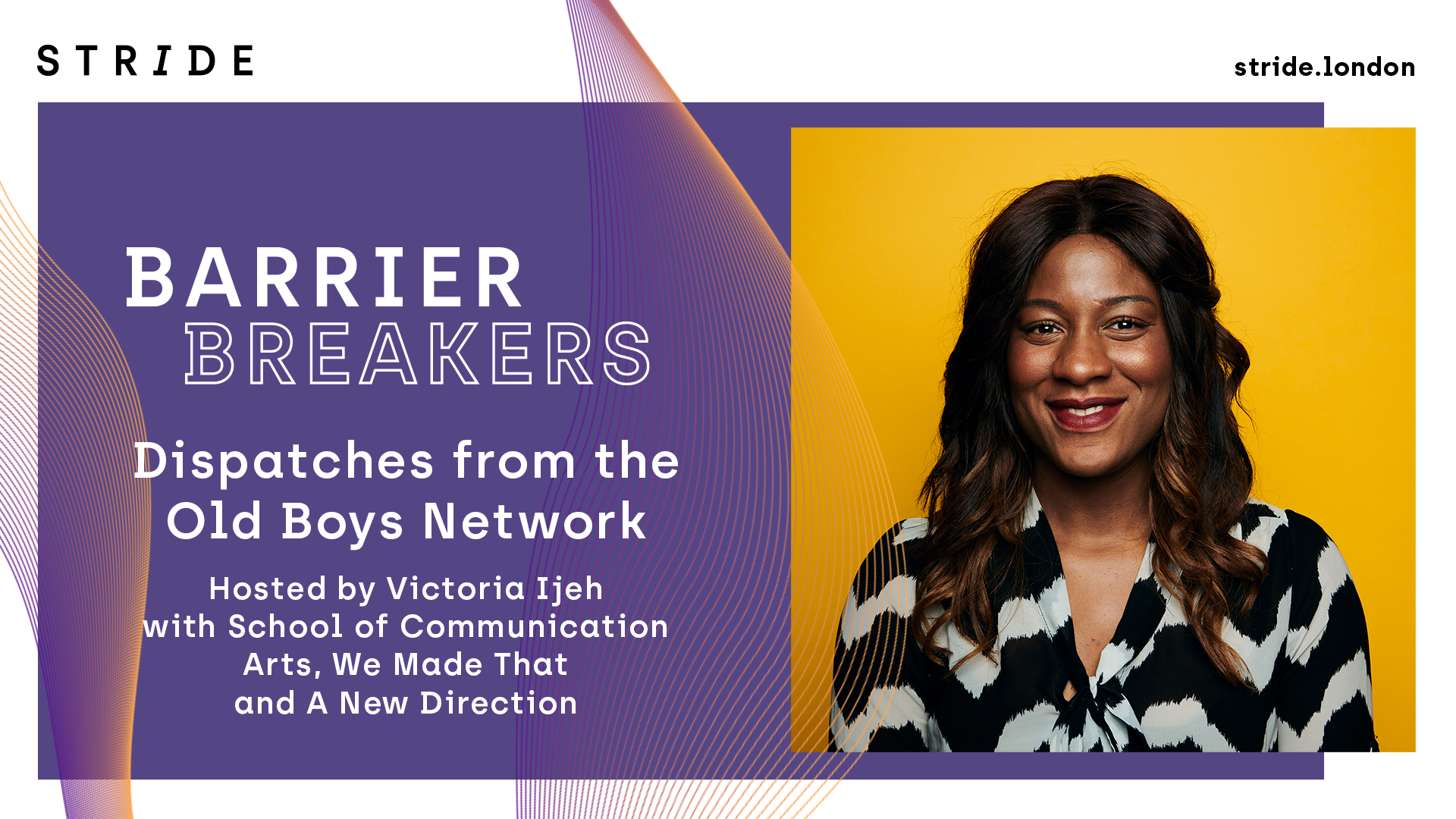 Barrier Breakers: Talent Scout saw 140 business leaders, changemakers and diverse entrepreneurs come together for a jam-packed day of keynote speeches, fireside chats and panel discussions.
Check out the highlights and revisit recordings of all of the fantastic sessions…
Apply for funding!
Stride's final round of talent development funding is open for applications until 5 August 21
Apply here
Diversity in tech: what next?
The day kicked off with a panel discussion led by OneTech's Emma Obanye. Emma was joined by Ella Paradis, Dunia Rey and Anna Borucinska – all entrepreneurs who have participated in Stride's OneTech programme. They shared their experiences, insights on what the next chapter of the diversity in tech movement looks like and the opportunities and challenges that exist for underserved entrepreneurs.
Confidence was a key topic of discussion, with Emma stressing that entrepreneurship is mostly about working on ourselves and that as entrepreneurs, we are constantly evolving. Founder of The Black Explorer, Ella, spoke about how the coaching offered through Stride's OneTech programme helped her develop her self worth.
Dunia Rey, a Senior UX Designer and entrepreneur, echoed this as she spoke of the skills she gained from OneTech. "The coaching was great for helping me build communication skills, public speaking and pitching. I might not be Elon Musk or Steve Jobs but I am still a founder because I am a normal person solving normal issues for normal people."
LogicSock founder, Anna Borucinska, made a rallying call for startup grants for mothers launching businesses and local council funding for creches to support parents on their business journey. She also spoke about how being on Stride's OneTech programme provided her with the vital business support she needed.
How It Started…How it's Going
Next up was a fireside chat led by Stride Partnership Network member and co-founder of Mental Savage Book Club, Chijioke Anosike. He was joined by Elizabeth Blege and Judith Omoregie, co-founders of eFitter. They showcased success stories from across the Stride programme and looked forward to some exciting developments in the pipeline. 
Judith said she joined Stride's Create Jobs Future Startup Now programme (powered by A New Direction) "to accelerate the business growth, do product testing and gain funding to build the product.". Elizabeth also spoke of the invaluable resources the course provided.
Dear employers, traditional recruitment methods are no longer working
ERIC's Mae Yip was then on hand to speak to three young creatives about their career ambitions, the recruitment challenges they have faced and what the future of recruitment should look like.
ERIC marketing manager Samaksh Kalra said "Gen Z would really appreciate constructive feedback when applying for jobs, feedback on CVs and interviews prep." Whist content creator Paige Bernard talked about the importance of building resilience against obstacles.
Discussing the importance of creating more diverse talent pipelines, actress Laura Njoku suggested that "companies should audit their processes of recruitment" and Mae asked whether "blind applications are the way forward to help remove some bias and ensure candidates aren't judged due to their ethnic sounding names or their background.".
Dispatches From The Old Boys Network
Victoria Ijeh from Iconic Steps hosted a lively discussion with A New Direction, We Made That and School of Communication Arts (SCA) about increasing diversity in traditionally white male dominated sectors.
Architect Nisha Kurian shared her experiences of often being the only women of colour at several of the architecture practices she's worked at.
Both Oliver Benjamin from A New Direction and Marc Lewis from SCA shared their thoughts on white privilege and how to use their position of advantage to help increase inclusivity in predominantly white industries.
Communicating effectively with underrepresented audiences
Word on The Curb's Ndu Uchea led a session about how brands and organisations can better connect with underrepresented audiences. He was joined by Sabrina from the NHS transplant marketing team who said it was important for them to "engage BAME communities in a genuine way, which helps build trust with our audiences."
Ndu commended the NHS and other brands like Ben & Jerrys for supporting diversity in the wake of last year's Black Lives Matter movement and said "consumers just want honesty, so organisations need to toe that fine line between authentic inclusion and performative allyship."
Sharing this sentiment, content creator Qoy talked about brands needing to work harder to be genuine when creating diverse campaigns.
Empowering women and girls in the creative workplace
Finally, Spendor's Alex D'Sa hosted a discussion with three inspiring women who are actively working to empower women and girls in the creative workplace. They discussed what drives them, what they are doing to push things forward, their successes and what's next in this sphere.
Founder of media production company The Ascension Agency, Natasha Preville and former architect and Operations Director of We Rise, Polly Waterworth both shared the importance of having mentors who championed them throughout their careers, whilst discussing male allies.
Alex echoed this suggesting small gestures like refusing to speak on panels unless there was a woman sharing the panel was helpful whilst Lara Grace Ilori said male employees "shouldn't be afraid to be allies and they must stand up for the minorities in their workplace, call out discrimination and speak to management about issues."
Sign up to our mailing list for information on future events, as well as talent development, business support and workspace opportunities that can be accessed through Stride.
Home
This event was designed and delivered in partnership with Still Curious.