_Latest news & events
Barrier Breakers Speakers Spotlight
Published in Knowledge Exchange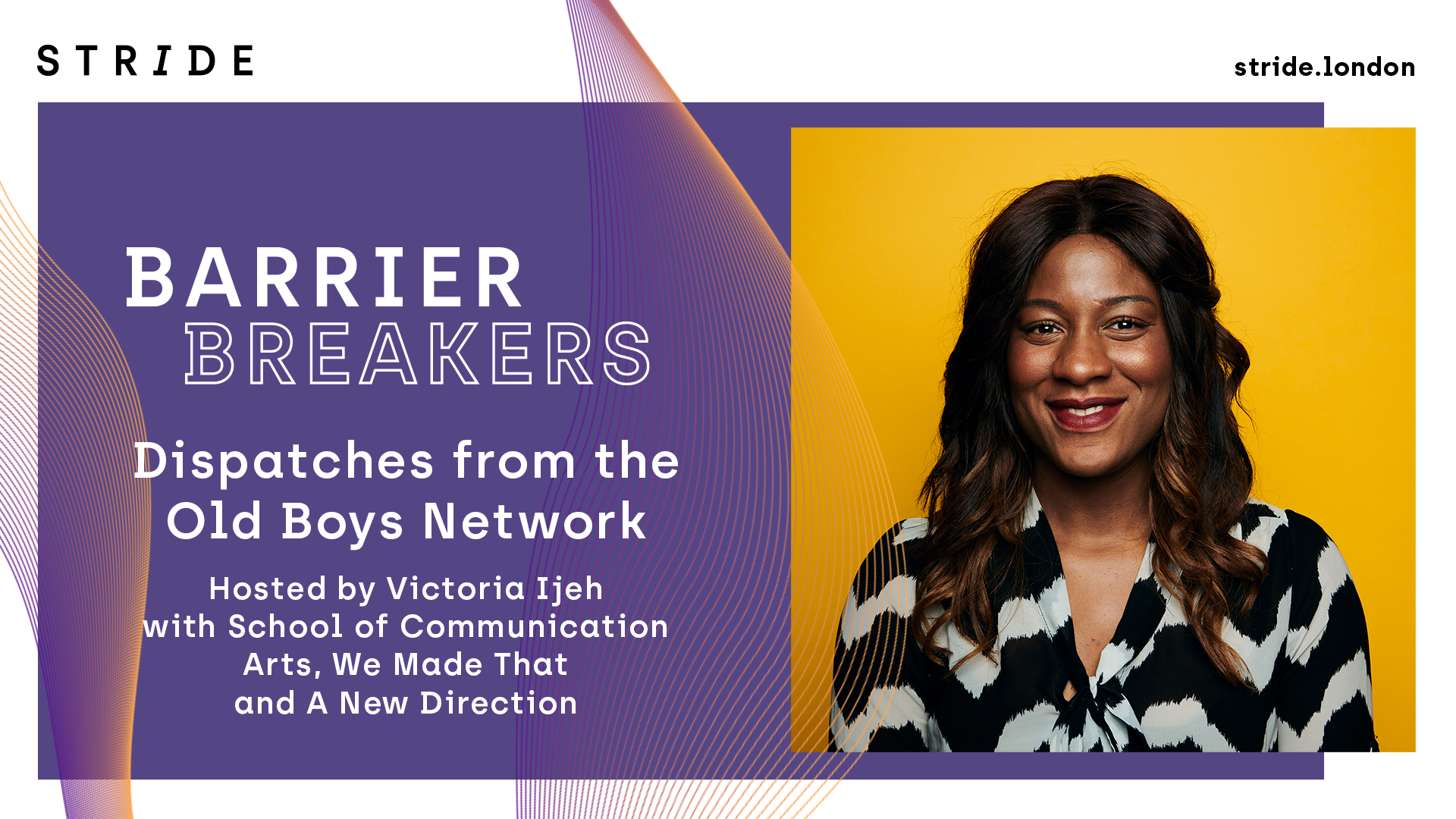 Ahead of  Barrier Breakers: Talent Scout on 19 May, we want to introduce you to some of the amazing speakers who will be sharing their insights on how to support diverse talent in the creative and tech industries.
Dispatches from the Old Boys Network
A lively discussion about
how to increase diversity in traditionally
white male dominated sectors.
Host: Victoria Ijeh, Iconic Steps 
Victoria Ijeh is an award-winning filmmaker who set up Iconic Steps to support young people to reach their potential and enter the creative industry. Iconic Steps has since helped over 300 young people so far. Victoria is also passionate about helping people develop a growth mindset and resilience and is currently on the PwC black entrepreneurs programme.
Panellists:
Marc Lewis:

As the Dean of

School of Communication Arts

, Marc is himself a former scholarship student at SCA as well as a Sunday Times best seller. After reopening SCA in 2010, Marc committed his career to helping others develop creative careers and as a result, SCA has distributed over £1m of scholarships and bursaries since reforming.

Nisha Kurian:

As a seasoned architect at

We Made That

, Nisha has led various community-focused design projects, including delivery of an extension to East Street Library – a critical component of the What Walworth Wants strategy – and an improved public events space in Waltham Forest which is accompanied by a programme of activity.

Oliver Benjamin:

Leading the team at

A New Direction,

Oliver's role as

Director of Employment and Skills sees him

create employment opportunities for young people aged 16-24 in the form of industry relevant training, practical and task-based work experience, mentoring, apprenticeships, internships and paid work.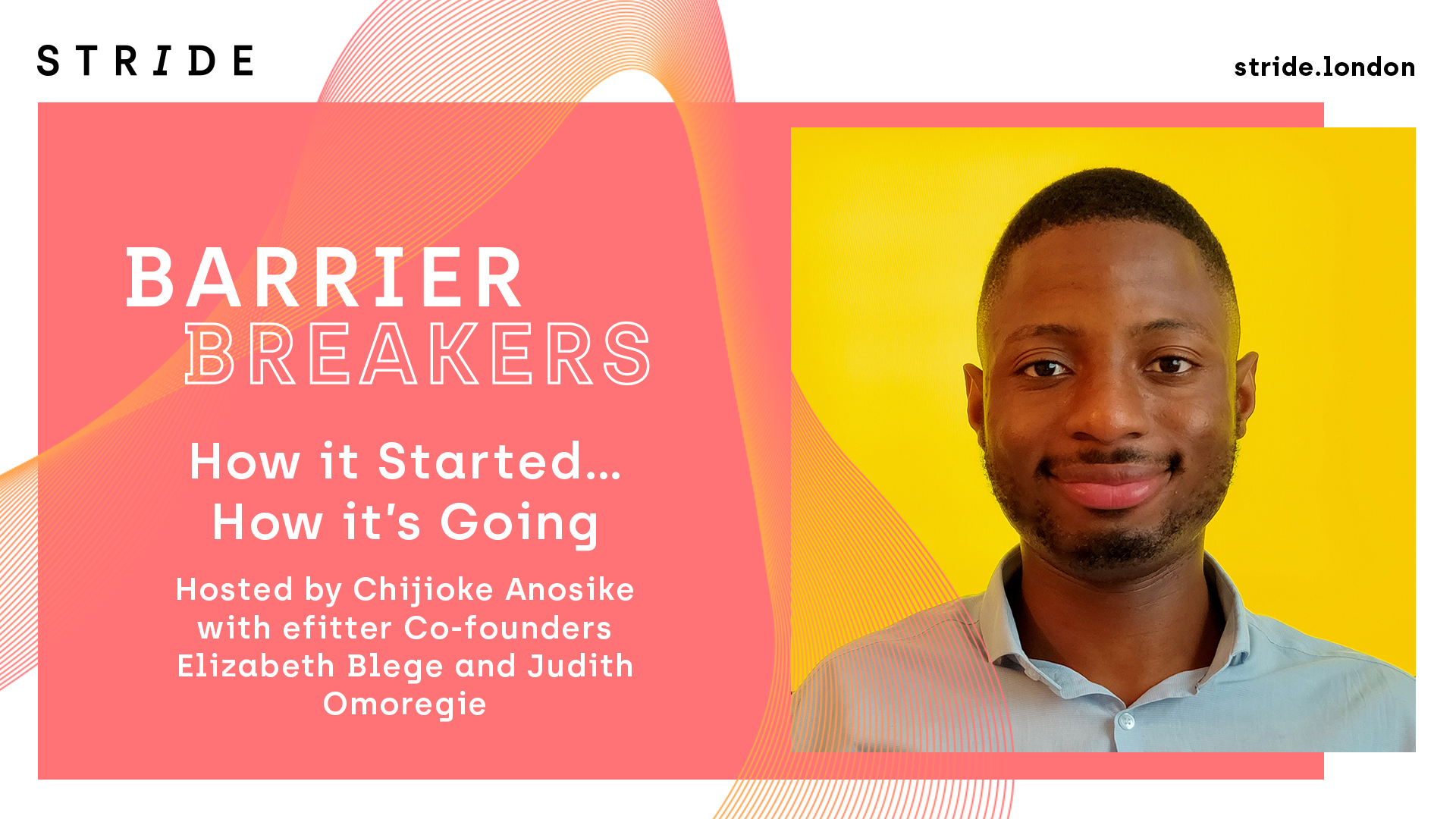 How it Started… How it's Going:
A fireside chat showcasing the progress and success stories from across the Stride programme, as well as a look forward to the exciting developments in the pipeline.
Host: Chijioke Anosike, Entrepreneur (Mental Savage Book Club)
After completing a Masters at the LSE in Regional and Urban Planning Studies, Chijioke started a role as a Regeneration Consultant in September 2019 in the city, but after a time of introspection decided to quit in August 2020 during a global pandemic to pursue his entrepreneurial passions. Chijioke is now the co-founder of Mental Savage Book Club, which is an exclusive accountability club for entrepreneurs to strengthen their mind's first then their businesses. Chijioke loves to travel, explore new cultures and share the lessons life has (and continues) to teach him through public speaking.
Panellists:
Elizabeth Belge:

Elizabeth is the co-founder and Chief Product Officer at

efitter

, a fashion-tech solving poor sizing for millennial women. With a background in SaaS consultancy, she is responsible for product and operational development and co-hosts The FIT by efitter, the UK's first podcast covering all things fashion, innovation and technology. By day, she works in digital content production and manages digital projects from ideation to launch. By night, you may find her upside down on a pole to stay fit and unwind. 

Judith Omoregie:

Judith Omoregie is the co-founder of

efitter

, a tech company personalising the shopping experience for millennial women. Judith is known for her seasoned background in fashion photography, her hobbyist fashion blogging era and now efitter. She also hosts The FIT podcast along with her co-founder, Elizabeth.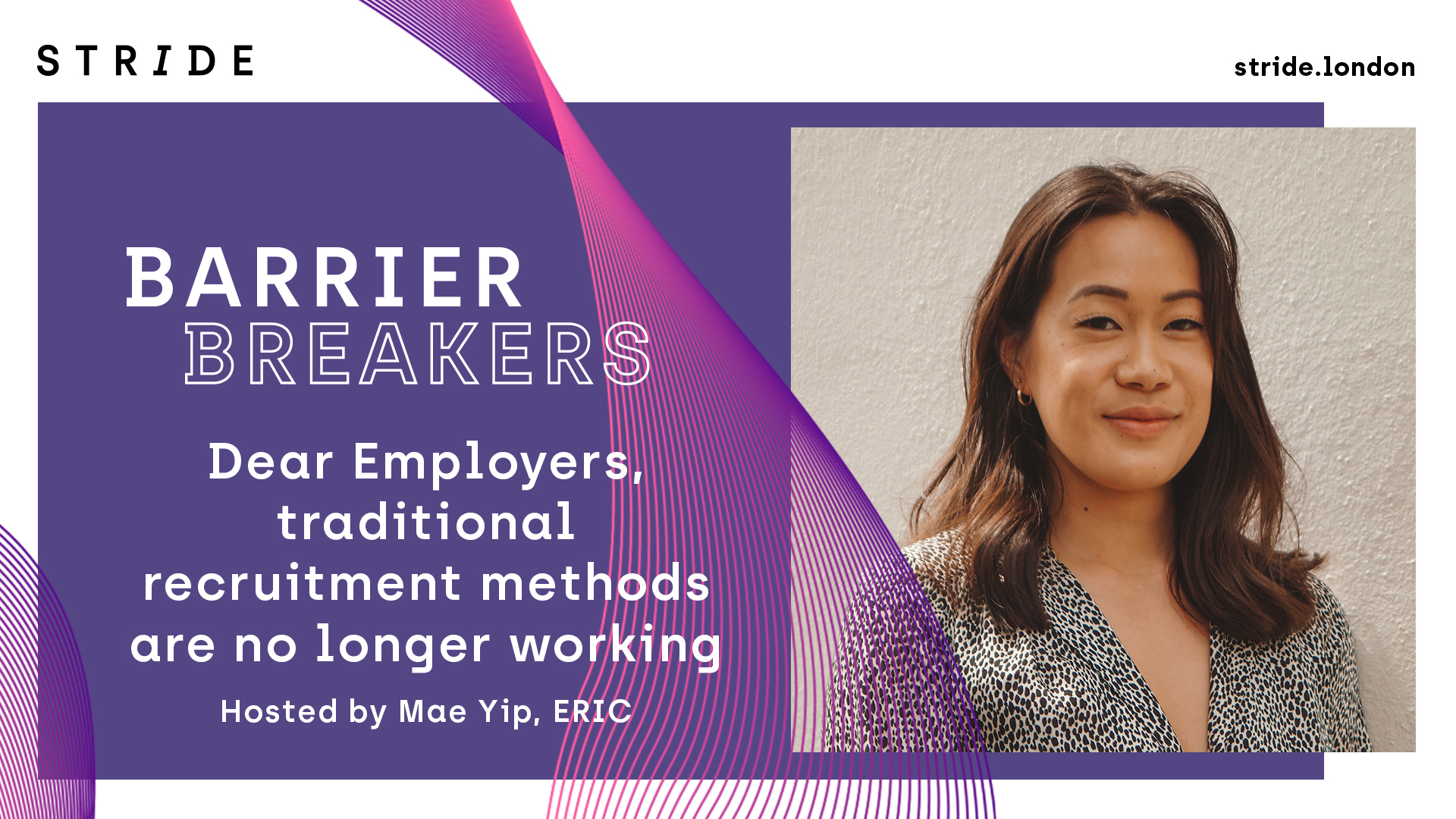 Dear Employers, traditional recruitment methods are no longer working:
Mae Yip from ERIC speaks to three young creatives about their career ambitions, applying for jobs, the challenges they have faced and what the future of recruitment should look like.
Host: Mae Yip, ERIC
As a former chartered accountant, Mae was always a creative at heart and she quickly realised she was on the wrong career path. Fighting against stereotypes about Asians' impeccable mathematical abilities, Mae decided to explore her real passions and interests which led her to co-found ERIC, a platform connecting young creatives to exciting opportunities. Mae wants to empower the next generation to embrace who they are, and realise anything is possible.
Panellists:
Samaksh Kalra:

After completing an MA in Multimedia Journalism from the University of Westminster, Samaksh is now a multimedia content creator who produces content in all its different forms – articles, videos and pictures. Samaksh is Head of Content at

ERIC

, responsible for making sure that young creatives get everything they need for their personal and professional development in one place.

Paige Bernard:

Social media creator, content creator and blogger/writer, with a focus on fashion, personal development and wellbeing.

Laura Njoku

: A proud

North West Londoner, Laura has championed entrepreneurship, motivational speaking and acting. Laura has worked across film, TV & commercial productions including Tomb Raider, Eastenders and TikTok to name a few.
Attendance is free: book your spot at Talent Scout today
Register for Barrier Breakers: Talent Scout on 19 May at Eventbrite
Sign up here
Make sure to follow us on Twitter for event updates, session timings and speaker announcements
Follow us on Twitter